DOM LABREUIL
Imposture Inpolysonne DVD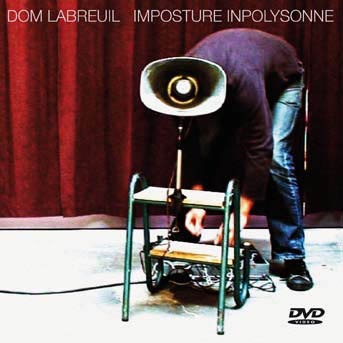 Catalog reference number: IPS-D-0409.
DVD release date: April, 2009.
Exploring new horizons seems the main topic in Dom Labreuil' s art form. After studying by turns photography, drawing, painting and sculpture, it's
no suprise to find him scraping with a sickle with his video art work "J'ai descendu" shown at a french concrete pictures festival in 2007.
His pictures are made with almost nothing but ephemeral stuff, found footage, performing art, improvisation and curiously lifetime moments emerge
from the collision between images and music. That's the way he worked on compositions by Dominique Grimo, David Fenech, Val Poher, Pascal Comelade, Palo Alto, Colleen, Jean-Marc Zelwer, Beirut, Faris Nouarallah...

In 2008 he took part again in the " golden raw " selection of the concrete pictures festival with "Madame Insomnie, chamboulée conserves", a video
created from a dialogue between his pictures and the music from Pierre Bastien and Dominique Grimo's album "Rag-Time Vol.2" released by the label Inpolysons.

Following this fruitful collaboration, Inpolysons' manager Denis Tagu proposed him to apply this process to the entire catalogue of the label. And there it is ! In the DVD "Imposture InPolySonne" Dom Labreuil composes his images on the off screen musics created by Klimperei, Dominique Grimaud, Pierre Bastien, David Fenech, Toupidek Limonade, L'ensemble Rayé and Jean-François Pauvros.

01 INTRO DE GRASS CHAVIREE (Jean-François Pauvros)
02 UN BATEAU ET DES VACANCES QUI PASSENT (Grimo)
03 MISS PIXELS A LA PLAGE (Grimo)
04 CRYING FOR NOTHING (David Fenech)
05 ALAEEEYGH "Ghost play-back" (David Fenech)
06 MARINELA PARKINSON "Sous la douche" (Pierre Bastien, Grimo)
07 MADAME INSOMNIE "Chamboulée conserves" (Pierre Bastien, Grimo)


08 MOUETTES GAME-MODE (Pierre Bastien, Grimo)
09 CRAZY WORK (Pierre Bastien)
10 C'EST COMMENT LA HAUT ? (Toupidek Limonade)
11 L'HOMMAGE PLASTIQUE (Klimperei)
12 LAST TEST BEFORE THE CRASH (L'Ensemble Rayé)
13 NUPTIAL PARADE (Toupidek Limonade)
14 THE WORLDTRADEUNDERTENTION (Toupidek Limonade)
15 ON A BIEN RIgoalE (Klimperei)
16 QUAND C'EST PARTI C'EST PARTI "Dernier fondu sortant Noir" (Toupidek Limonade)