TRUC, curious and thematic compilations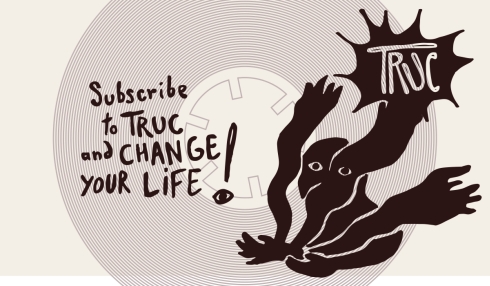 TRUC is a series of 9 thematic, curious, frenzied, improbable, crazy, unique and quirky compilations.
TRUC will take the form of tape boxsets (+ digital download).
TRUC was born of MonsterK7 and InPolySons' shared interest in strange music.
TRUC brings together musicians that don't care about naming genres.
TRUC follows its own rhythm: the volumes composing the series will be enumerated according to the Syracuse mathematics sequence.
TRUC wants to bring about the unexpected.
Each subscription contains the compilations as a digital download + tape boxset - limited edition : 100 copies (shipping included).
Subscription to
(shipping fee included) :
France
Rest of the world
8 issues
€ 97,60 EUR
€ 120 EUR
7 issues
€ 85,40 EUR
€ 105 EUR
6 issues
€ 73,20 EUR
€ 90 EUR
5 issues
€ 61 EUR
€ 75 EUR
4 issues
€ 48,80 EUR
€ 60 EUR
3 issues
€ 36,60 EUR
€ 45 EUR

> FIRST VOLUME (N°6) : CABINET DE CURIOSITÉS
Already available since october 2018 !
For this first volume in the series, called "Cabinet de Curiosités" ("cabinet of curiosities" - to be released in September), we asked 22 musicians to rummage through their archives for obscure-music gold: their most startling unreleased tracks. With: A&E, Alain De Filippis, Art & Technique, Carton Sonore, Chow Mwng, Daniel Padden, David Fenech, Domotic, Ergo Phizmiz, GNG, Guido Möbius, Les Tailleurs de Notes, Lionel Fondeville, Look de Bouk, Mami Chan, Micusnule, NIT, Quenotte (aka Madame Patate), Sacha Gattino, Tom Wilson, Toupidek Limonade and Wevie Stonder.