TRUC, thematic and curious compilations
Second volume (number 3): "Album Photo"
Catalog reference number: Truc 3.
A MonsterK7 and InPolySons coproduction.
Cassette release date: November 3, 2019. Out of print.
Digital released on Bandcamp on November 3, 2019.
TRUC is a serie of 9 thematics, curious, frenzied, improbable, crazy, unique and quirky compilations.

For this second volume in the series, called "Album Photo", photos of anonymous and forgotten people unearthed in flea market of Paris, gain new life thanks to musicians found by TRUC ! Musical snapchots that are not clichés.
With Andrianette, Bert Begar, Dominique Grimaud & Véronique Vilhet, F.S. Blumm with Ella Blixt, Harry Merry, Héron Cendré, Honoka Sakai, Ilitch, Jon Sheffield & friends, Klimperei, Maher Shalal Hash Baz, Nom d'un Truc !, Red, Sonotanotanpez, Uske orchestra, Witold Bolik.
Artwork: Pierre Chandèze (withamessyhead.blogspot.com)
Mastering : Yan Hart-Lemonnier (yanhartlemonnier.bandcamp.com)
Photos : Agathe Trémouille
A great thanks to them andLaura Pfeiffer for the boost !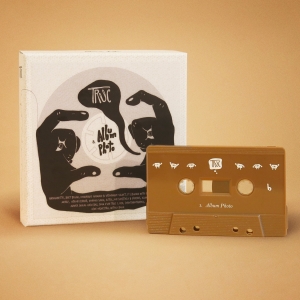 Cassette Truc 3 Out of print.

Buy a digital cassette with a tote bag.

Subscribe now !
Each subscription contains the compilations as a digital download + tape boxset - limited edition : 100 copies (shipping included).