Pierre Berthet – Frédéric Le Junter :
L'enclume des jours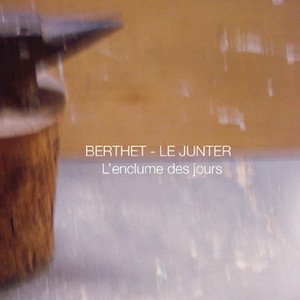 Catalog reference number: IPS 0411.
CD release date: April, 2011.
(This title is taken for « foam of the days », a novel by Boris Vian. « Foams » has been changed for « anvil » since in french, « foam » stands for « écume » and « anvil » for « enclume »)
Raw concrete music. Tubular dums, horns, nails, wind and rotary organs, water droplets, automatic bow, springs, foot bass, iron wires, tins, barrels, mirrors, singing... So many indications to penetrate the music of Pierre Berthet and Frédéric Le Junter, two french artists. This is a clever mix between the soundscape of our society (the concrete item of the music) and the creative diversion for construction and composition, in order to give an expressive signification of this world. We really are in the center of the globalization of our lifes; our urban future based on our agricultural roots.
These recordings of the miniCD (30 min long) were performed in the mid 90's, when Pierre Berthet and Frédéric Le Junter played duo, with already some memories recorded on a CD published in 1994 on the Vand'Oeuvre french label. Today, InPolySons produces unreleased material from the same days, composed for the ballet show « Love is a stranger» of the late William Douglas (1953-1996) (excepted the last piece which appeared on a Vand'Oeuvre compilation). These are sounds staged for us, meaning sounds through simple and raw words, as a metaphor of the real life.
Visuel : Dom Labreuil : http://domlabreuil.blogspot.com/