LES FIGURES et GUIGOU CHENEVIER
Catalog reference number: IPS 0399.
CD release date: March 1, 1999.
Digital released on Bandcamp on February 7, 2020.
An experiment simple but complicated. A workshop between a foolish musician, but well in his head, and young guys destabilized but well in their minds, if given the opportunity to express their feelings. The result of this work stares up in the face, accomplished in 3 years, reduced to 25 minutes, not delinq-tinsel at all.
Musical yard.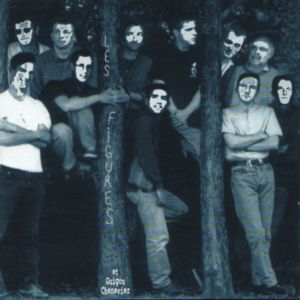 Music by Guigou Chenevier. Pierre Bénichon (guitar), Hamid Boudehedj (keyboard ; lyrics on track 1 "Tsura"), Nicolas Chatenoud (bass), Stéphane Crochet (guitar), Lionel Crouzet (keyboard), Cyril Darmedru (alto sax), Edgar Moroni (monophonic keyboard), Eric Pierrefeu (drums), Gilles Routaboul (drums), Jean-Michel Steuber (trombone).