Alain De Filippis, De Mémoire d'Os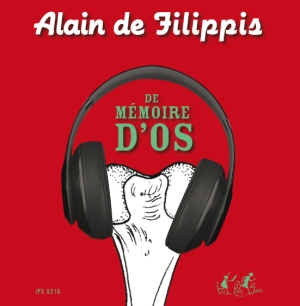 Catalog reference number: IPS 0216.
Cassette release date: February, 2016.
Out of print
A project of contemporany pre-historic music ! De Mémoire d'Os is a monumental and founding work of Alain De Filippis. This work in several parts has been created and played in 1987 inside a cave used for minig of marl, near Chartres in the little village of Jouy (France). In the audience, there were experts in experimental music, as well as inhabitants of the village. Music was pre-recorded and played within light projections : a pre-historical music, primitive and raw, filled with an imaginary bestiary that probably inhabited the caves of our ancestors. « De Mémoire d'Os » (of bones memory) mirrors and other Herculean task of Alain De Filippis on a data base of sounds, a kind of Sound Encyclopedia : the first pages of this un-finished (and not published) work were dedicated to pre-historic sounds, were those of « De Mémoire d'Os » could have been registered.
Cassette (2x30 min)


Face A
De Mémoire d'Os (17'20)
Dépression comprimée (2'57)
Danse macabre (10'16)

Face B

Hatchib Haba (7'35)
Péplum (14'26)
Intensité (3'26)


Kenong (9'05)
Tympan dans l'oeil (3'00)