Alain De Filippis, Musicien Improbable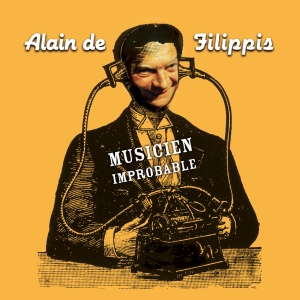 Catalog reference number: IPS 0915.
LP vinyl release date: June, 2015.
Alain De Filippis died in 2010 when he was 50, and it is only today that a first record on vinyl is released, showing the large diversity and coherence of his complex approaches, between concrete music and unlikely sound editings. His first « musical collages » on tape contained more adhesive than real tape ! Further digital collages was made of thousands of small musical sequences that decorated the computer screen of a beautiful multi-colored matrix. We find in this new record unreleased material from early works, works for theater and movies, little intimist numbers and a great tribute to Edgar Varese.
FACE A « Sonorama »

1.Opus 1 (1'13)

2. Ayé (6'38)
3. Leur cinéma (4'01)
4. Transmutation (6'20)
FACE B « Solenomix »
1.Ritournelle (1'13)
2. Vélivole (1'14)
3 Berceuse (1'15)
4 Chœur des hommes (4'46)
5. Akakiévitch - Le manteau (1'42)
6. Petit matin (valse) (4'06)
7. Vache à plumes (2'00)