HARDIS BRUTS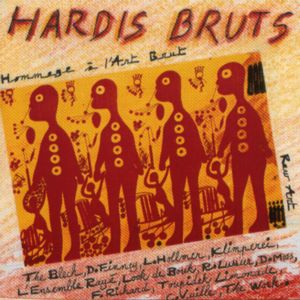 Catalog reference number: IPS 0592.
CD release date: May, 1992. Out of print
Available on Qobuz, Deezer, Spotify, 7digital, musicMe, Tidal, Google play...
A homage to Raw Art with hitherto unpublished work by The Blech, Lars Holmer, Klimperei, L'Ensemble Rayé, Look de Bouk, René Lussier, David Moss, Ferdinand Richard, The Work, ... which illustrate the works of self-taught artists (Le facteur Cheval, Picassiette, Wölfli, ...).
Warmly crazy.
"Art doesn't come to lie in beds made up for it; it runs away as soon as its name is pronounced; what it likes best is to go incognito. The best moments are when it forgets what it's called."
Jean Dubuffet
1 Kaisermarsch

(The Blech)
2 Les dons de castor (Cédric Vuille)
3 Art Brut, hommage à M. Landreau (René Lussier)
4 Homage from Tatin from looking at color photocopies (Danny Finney)
5 Pas mal à l'heure (Ferdinand Richard)
6 The House (David Moss)
7 Screem circle (The Work)
8 Les baselles

(L'Ensemble Rayé)
9 Picassiette (Klimperei)
10 Les mystérieux rochers de Rotheneuf (Toupidek Limonade)
11 Trois pierres dans ton jardin (Look de Bouk)
12 Lesage collage / Arp-violin (Lars Hollmer)