JUICY PANIC
Otarie
Catalog reference number: IPS 0503.
CD release date: March, 2003. Out of print.
Digital released on Bandcamp on February 3, 2020.
Juicy Panic wags its tail between the unclean electro and the pop not too pure, like the lasagnes filled with magic ingredients, yum-yum ! and stretching the limbs after the meal.
Between Blechdom from Blechdom and Dummy Run, Juicy Panic also listens a lot of doowop while taking a shower, Fred Frith for breakfast, Palace Brothers to get to sleep.
Electronic songs with anorak, acoustic fog with swimming suit. Mami Chan and Norman Bambi are getting all mixed up to dance with the knees and hum a « juicy panic ».
Quietly electric.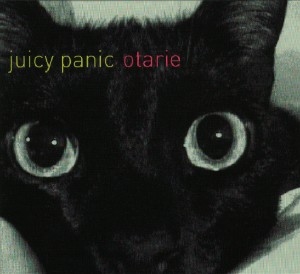 Mami Chan keyboards, vocals and whatever she grabs
Norman Bambi computer, vocals, guitar & percussions
1 sweet pillow
2 i'm an elephant
3 katakana dub
4 trifle trifle
5 leçon de piano
6 no train, but rain
7 umi to sola ga
8 otarie
9 a nostalgique bummer
10 you drive me oh oh oh
11 ponpoko yama
12 musical scratching comedy
13 mon poulet, ma cocotte