JOLIS CHOSES:
Hommage à Mami Chan
Catalog reference number: IPS 0721.
LP with 3 postcards.
Artwork: Takehiko Yamazoe.
Mami Chan, a musician of Japanese origin living in France for more than 25 years passed away in January 2020, at 56 years of age.
She has left many friends (musicians) who pay a heartfelt tribute with this << Jolis Choses >>, album conceptualized by Christophe Petchanatz, produced by InPolySons and coordinated by Emiko Ota with the help of Julien Omeyer.
Such a "papillon" (butterfly), Mami spread her energy and joy through the different formations that appealed to the elder and younger public alike: Mami Chan Band (Rock, ponk, like she used to say), Juicy Panic and GangPol und Mit (electro-pop sweet dynamic with certain projects for children such as Carton Park), and toy music (Ponpoko). Mami Chan has notably collaborated many times with Dragibus: she is present on the album tutti frutti on the keyboard, in 2005 and 2006, she toured with in Eastern Europe with Dragibus in particular in Hungary as "Mushroom Mami". Bright singer, she accompanied the iconoclast Philippe Katerine for one song.
Fine pianist, she loved the fun and false simplicity of Erik Satie.
This << Jolis Choses >> (sic) includes unreleased tracks by Mami Chan Band, Juicy Panic, Mami Chan solo and various covers of music and songs from the various universes of Mami Chan, with most of her musician friends, french, english and japanese: Gangpol und Mit, Dragibus, Haco, Echo-U-Nite, Emiko & KiriSute Gomen, Klimperei, Madame Patate, the members of Mami Chan Band...
A lighthearted tribute, in a pretty pink, that fills us with joy and nostalgia, for the 11th of July, Mami Chan's birthday.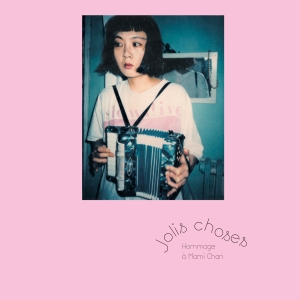 FACE A :
DRAGIBUS - Mauvaise graine (3:14)
JUICY PANIC - Agneau de printemps (2:11)
ECHO-U-NITE & NORMAN BAMBI - Pompoko Yama (3:36)
MAMI CH'ANNE - Du Riz (3:28)
GANGPOL & MIT - Parapluie (3:35)
TAGUBU TRIO - Oh Mami / love & beauty 00:35
HACO avec EMIKO & KiriSute GOMEN - La valse de Pompoko (3:13)
KLIMPEREI - Sayonara (1:52)
FACE B :
ELIZABETH ET MIKA PUSSE - Froide Pizza - Mauvaise graine (4:09)
MAMI CHAN BAND avec ANDREW SHARPLEY - Smokestains (3:00)
LAURENT BARDAINE - Inu (2:29)
MAMI CHAN - Quand on est (1:37)
MADAME PATATE - Poisson Lune (4:59)
MAMI CHAN avec EMIKO OTA & NORMAN BAMBI - Papillon (2:36)
MAMI CHAN BAND avec SEB EL ZIN - Kisskissbangbang - I can't say goodbye (4:32)
Most of the pictures of Mami by Takehiko Yamazoe.
Acknowledgements / Sato family, Pascal Moreau, Emmanuelle Gibello, Quentin Rollet, Erick Borelva.
This compilation was arranged by Emiko Ota with the help of Julien Omeyer, Christophe Petchanatz and Denis Tagu.
Mastering : Patrick Müller (Trace Label).
Layout : Radio Minus.