No more... (no mouroir)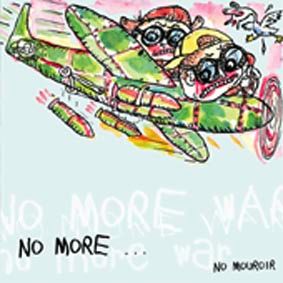 Catalog reference number: IPS 1301.
CD release date: 2001. Out of print.
Difficult. Really not easy. Bombs, wars everywhere, anyone goes on with its violence. And all that only for few square meters of land which could be shared. Could we avoid those wars and bombs ? Yes. Utopia ? Yes. But... Wars are in our day lives everytime that our personnal vital space is threaten. However, we wanted to do something. Artists (musicians and illustrators) quickly voluntarily proposed their works for compilation in this CD. All the benefits will be for non governmental organizations helping civil population suffering from wars and bombs. Utopia ? Yes.Because those benefits will not save the planet. Utopie ? No. Because we have to demonstrate our disagreement about violence. Artistic struggle, role of art in geopolitic. Very complicated ! So, let's act.
Urgently explosive.
() - out of print
Illustrations Paquito Bolino, Jean Michel Marchetti, Moulinex, Nuvish, Caroline Sury, Robert Wyatt
Text Albert Marcoeur
1 Pascal Comelade : Un train direct pour Charenton Part I


2 Pascal Comelade : Un train direct pour Charenton Part II
3 Pierre Bastien & Klimperei : Une souris verte
4 Oedipus : Que lindo meu amor
5 Oedipus : River dart
6 Toupidek limonade : Georges va au plumard Part I
7 Toupidek limonade : Depuis que
8 Les Batteries : Heaven help yourself


9 Look de Bouk : Un do l'enfant do
10 Look de Bouk : La marionnette du Chinois
11 L'Ensemble Rayé : Flamme & Co II
12 Pierre Bastien : Dog's god
13 Klimperei : Clear the cumb
14 Klimperei : Ma copine
15 Klimperei : Pour mon Papa
16 Klimperei : La nuit
17 Klimperei : Le baluchon
18 Klimperei : La vieille carriole
19 AA Kismet : Crisis as usual
20 AA Kismet : Oscilloscope
21 Jean-François Pauvros : "... Je vous prédis la fin du monde."
22 Alix Marchetti, Robert Wyatt & Jean-Michel Marchetti : Dondesta