Dragibus, Papriko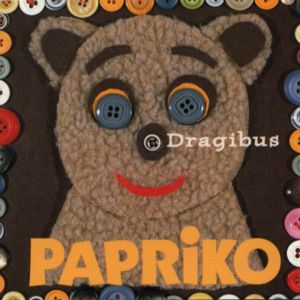 DRAGIBUS takes the bus in the entire word. We discover childish songs, fished in the word-wide repertoire, like the football cup that (unfortunatly) we (the french people) won. A voice (Lore) taken from cartoon soundtracks which make our nostalgic dream flying, and arrangements of percussions (Franq) chased with a dig. Music able to wake up our childhood brain-area, sometimes switched off by the responsabilities of our adult way of life.
Deliciously irresponsible...
(IPS 0199)
Co-production UpLink Records (Japan)
Order directly (this CD is no longer available from In Poly Sons)
1 Chers petits amis
2 Domotor
3 Three blind mice
4 Le lila
5 Brigandou
6 La famille tortue
7 Baa baa black sheep
8 Une souris verte
9 Où vas tu petit lapin ?
10 Celui qui n'entend qu'une cloche
11 The old lady who swallows a fly
12 Tsukino
13 Mr Penchinello
14 La ronde des escargots
15 La fée clochette
16 Faut des rubans
17 Kocsi
18 Le vieil ours
19 Trabant
20 Paprika
21 Hot cross bun
22 Simple Simon
23 By'n by
24 A monster song
25 Fuyez princesse !