DAVID FENECH
Polochon Battle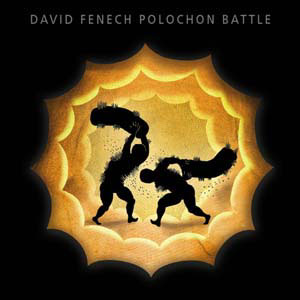 Catalog reference number: IPS 1007.
CD release date: October, 2007.

"I'm a fan of this movie by jean vigo called zero de conduite, and i often think of the final scene, this huge pillow fight which is anarchic and soft, violent and smooth at the same time. it's the same feeling i'm trying to express in my own music. polochon battle (pillow fight in frenglish) has developed around this idea of happy conflict between the different tracks of the album, as well as a kind of joust between the musicians involved, a fight between acoustic sounds and their electronic mirror" david fenech.

For his second album, david fenech has invited some friends to compose with and against him, opening his musical pieces to the baroque instrumentations of the japanese musician shugo tokumaru, to the polyrhythmic electro glitches of the german felix kubin, to the perverse ambiguity of falter bramnk's sampler, to the toy orchestra of klimperei, to the piano melodies of toog.

Playing many unexpected instruments, david fenech shows no limit in his inspiration: ukulele, prepared guitar, toy piano, kitchen drums, bells, computer and accordion come together joyfully. and we can also hear his signature: his strange vocals, sounding like speaking in tongues and like no other (alaeeeygh, friday market reggae).

Inpolysons is proud to release this hybrid album, a little bit outside the borders and with a very personal imaginary world. somewhere between pop and electronic music, between punk rock and new music. come on, feel free to bring your pillow and enjoy the fight !
With special guests : felix kubin, shugo tokumaru, klimperei, toog , falter bramnk, aurelien potier, herve zenouda, stephane milochevitch, daniel palomo vinuesa
VIDEO:
- cheveux dangereux (benoit guillaume)