Rythmé Brut, Musique brute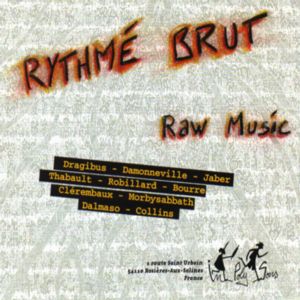 Does "raw" music exist? Is there any correlation with Raw Art? Don't be afraid, this CD does not give any clue. One could find everything he wants in these recordings: musicians which could belong to the "Neuve Invention", improvisers of noisy belches on a microphone, outstanding technicians accumulating several keyboards like other obsessionaly accumulate things (I think of the puppets of Michel Nedjar), soft and/or violent musicians. But from what I have listened to, there were sincere people, an essential quality for the raw approach. For some of them, their music was never "exported" before. This CD has the defaults and the advantages of a compilation. Default of heterogeneity and advantage of heterogeneity. Everybody can pick what he needs to imagine...
Fullishly destroyed.
Rurally avant-garde.
Sleeve Jean-Pierre Nadau, partition imaginaire. Black ink on canvas.
1 – Dragibus Untitled 5:02
2 – Damonneville Guylain En Toute Quiétude 3:22
3 – Jaber Untitled 3:22
4 – Fred Thabault Improvisation Sur "Perce-Neige" 3:48
5 – André Robillard Untitled 2:28
6 – Paul Bourre The Ticking 4:04
7 – Jean Clérembaux Untitled 4:40
8 – Mordysabbath Les Deux Amoureux 3:26
9 – Michel Dalmaso Untitled 2:28
10 – Donna Collins Fly Violin Fly 11:44
(IPS 1298)