La Société des Timides à la Parade des Oiseaux (STPO): « LES LIQUIDATEURS »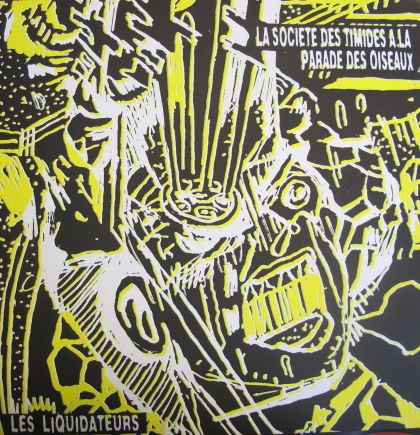 Catalog reference number: IPS 1013.
Vinyl LP release date: October, 2013.
• THE LIQUIDATORS
A tribute for all the men and women who gave their life, an homage to what they felt, what they lived, what they had to endure during the rescue mission of the accidented nuclear reactor of Chernobyl. The history mentioned here is about a young liquidator from Armenia. It is freely adapted form the movie "The Battle of Chernobyl" directed by Thomas Johnson.
The musical composition is divided in 6 parts, separated by "fragments" describing the impact of the radioactivity on (the nearby town) Pipriat's daily life, ignoring the deathly danger.
The chronology includes the alarm and liquidator mobilisation's stage, the listening of the instructions given by the chiefs, the rush to the reactor, the hesitation of the president in charge (Gorbatchev), the absolute horror on the roof of the reactor until the death of the liquidator. We precisely follow the story of a young armenian liquidator, lost into his lack of understanding of the russian instructions, with fear in his stomach, and his extraordinary sense of duty. By sacrifying himself like hundreds of thousands of his comrades, he's going to save humanity.
1 - Alarme / Couches de protection


Eclats
2 - Instructions aux Liquidateurs
Eclats / Thème / Eclats
3 - Courses
4 - Hésitation
5 - Horreur
Eclats
6 - Mort du liquidateur
The disc is a 33rpm's vinyl record (12") of about 35 min 's duration, with an album cover by Pakito Bolino from Le Dernier Cri.