Cédric Vuille, Des Pas Rayés
Catalog reference number: IPS 1003.
CD release date: October, 2003. Out of print.
Digital released on Bandcamp on October 15, 2020.

This is an awfully peacefull small town in Switzerland. At least on the the face of it. For in the area of Neuchâtel the pedal boats swing gently in time on the lake to the happy beats of some good old friends musicians, jewellers and joyous. For several years Cédric Vuille has been longing for composing and playing tonal music filled with guitars and enriched with clarinet, on inspired rhythms, particularly those of gay - but not to hazy - reggae. Life is too short to bother our heads. Among the Rayés, one doesn't live on the same shore as a Godard. It rather takes after some Jacques Demy without words, some talkative Jacques Tati or even some poetic Fellini. The torments of life force us to go to the main thing, to enjoy everyday life as we think to what surrounds us : a kind of latent and quiet militancy for a present and pleasant life without looking for gratuitous fame. Cédric Vuille proposes here his first solo album among several projects with his own band L'Ensemble Rayé. A way of expressing just beneath the surface his optimistic outlook on life. Like a kind of relaxed René Aubry, Cédric Vuille executes tunes with spirit and punctuated with reggae rhythms dear to L'Ensemble Rayé. A manner to cock a snook at the death that may go rocking to wait for better days.
Lively not mortal.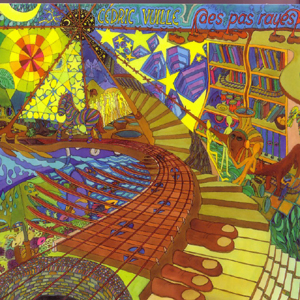 1 Caramba !
2 Casser le bar' rag
3 Le dvan de la diva
4 Klezmer Spaghetti
5 Les voix de Palau (pour les " Angeli ")
6 Skaroll
7 Tourne en rond
8 Automate à noisettes

9 Sur le tipi (let's click and sing !)
10 Adodel
11 Polkaggae
12 Aurelio
13 Danse joyeuse
14 Skanimé
15 La belle ancolie
16 Bonus track from the clouds : Tipi en daube
Cédric Vuille - guitar, bass, ukulele, clarinet, cuatro, spoons, theremin, melodica, ocarina, keyborads, bird calls, voice, percussions
Catherine Trottman - piano (3)
Julien Baillod - electric guitar, keyboards (1-4-8-10-13)
Jeroen Visser - organ, clavinet, baryton saxophone (6 & 11)
Jean-20 Huguenin - tenor guitare (1)
Daniel Spahni - drums, percussions
Carlos Lopez - percussions, congas, berimbau
Sibylle Aeberli - voice (9) ; Anne Simon - weather voice (9)