MW pour Robert Wyatt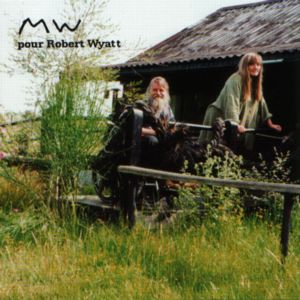 Catalog reference number: IPS 0401.
CD release date: April, 2001.

This compilation contains the sound material previously released with the two books M2W and MW3. Its has some slight modifications : the title "Caroline" is a new unreleased version by par D. Fellmann and Julien Goetz, and the number "Robert et André" is a new composition proposed by Kafka. This CD is sold without the accompanying books.

1 Some words of introduction (Robert Wyatt)
2 P.L.A. (Toupidek limonade)
3 Toledo Texas (Jean Marc Montera)
4 En Dondekistan (Look de Bouk)
5 Sea Song (Klimperei)
6 Born Again Cretin (Dominique Répécaud)
7 Little Red Robin Hood Hit the Road (Jagger Naut)
8 Alifib (Richard Robert & Gilles Tordjman)
9 To the Old World (Dominique Grimaud)
10 Left on Man (L'Ensemble Rayé)
11 Robert et André (Kafka)
12 Little Red Riding Hood Hit the Road (Joe Bogaert and An Pierlé)
13 Caroline (Dominique Fellmann & Julien Goetz)
14 Blues in Bob Minor (Robert Wyatt)
15 The British Road (Robert Wyatt & Philippe Fretun)
16 Mass Medium

(Philippe Fretun & Michel Benita)
17 Alifib (Pascal Comelade)
18 Heli Plop (Alain De Filippis)
19 Toledo texas (Jean François Pauvros)
20 For R.W. (Jean Marc Montera, Jean François Pauvros, Chris Cutler & Tony Buck)
21 Alifib (Le Piano de la Rue Vergennes) (Jean-Michel Marchetti)
22 Some words of conclusion

(Robert Wyatt)