LOOK DE BOUK
L'âcre hymne aérait Rome
Catalog reference number: ET 3 - IPS 0201.
CD release date: February, 2001. Out of print.
Digital released on Bandcamp on February 7, 2020.
"L'âcre hymne aérait Rome" is an ode in which Look de Bouk makes us regret tears we're stupidly shed because of the disappearance of things. Those things that Perec described, these things make up our daily life, those things we accumulate with no reason, Voltaire's "superlfuous which becames necessary". This legendary band offers musical flights of fancy that shift, that charm, that play their melodies corresponding to hidden emotions: the souvenir of teenage love stories, the noble death of Kundera's or the retirement of Facteur Cheval's wheelbarrow. But it is also a militant music that resists those beat and aspetic corridors of radio sounds which trap the imagination. An imaginary folklore like Nino Rota's with borborygmes, Pascal Comelade's barroco or Boby Lapointe without words. Like Poulidor when he was in good shape, Look de Bouk presents Pechno1 Hits which keep only the "popular" from its elder Techno.
Emotionnaly requested.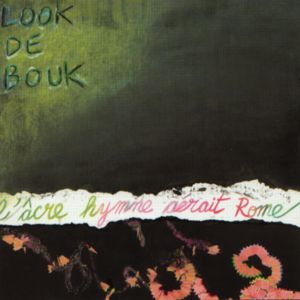 1 "Pecno" is french argot for out of fashion countryman.
This CD mainly corresponds to the most of the "Lacrimae Rerum" Lp issued in 1985 on the late AYAA label. It contains previously unpublished material and reflects a rare live activity.
Early Times Collection
Putting forward un-new recordings: gold & times, filled with an out-of-fashion genuiness. A music of feelings like some old out of time whisky. An anti-revival binge because milleniums come one after the other and we don't care.