Guigou Chenevier, Le Diapason du Père Ubu
Catalog reference number: IPS 0493.
CD release date: April, 1993.
Digital released on Bandcamp on May 5, 2020.
Music from a show created to give voice to the imaginary orchestra that Jarry proposed to accompany the play Ubu Roi on its first night. Traditional instruments mixed with an epileptic fanfare, some elements of which are due to Frédéric Le Junter.
Pataphysically indispensable.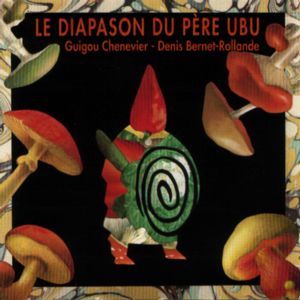 Monique Alba piano, keyboards, diapason, voice
Rick Brown percussions, paralipomène à coulisse, voice
Guigou Chenevier percussions, tenor sax, padophone, piano, voice, noises
Fred Costa soprano, alto, tenor sax, ubuphone
Manu Fabre oliphant vert, voice
Dominique Grimaud noises, sampling, keyboards, ubuphone 2
Michel Mandelclarinet, bass clarinet, trumpet, clarinette intestinale, alto sax, voice
Frédéric Minière trumpet, trumpet à coulisse, grand cavagne, voice
Guy Sapin guitar, soprano sax, fog horn, voice
Patrick Beaugiraud french horn, oboe
Le Pen et la culture, Guigou Chenevier (1997, pour Ras L'Front)
"Quand j'entends le mot Culture, je sors mon révolver". Cette fameuse déclaration de Goebbels, ministre de la Propagande et de l'Information d'Hitler à partir de 1933, en dit long sur l'importance de la Culture dans le combat antifasciste. Plus de cinquante ans ont passé, et l'idéologie fasciste n'a pas changé sur ce point, puisque Le Pen a promis à plusieurs reprises de supprimer purement et simplement le Ministère de la Culture, s'il arrivait un jour au pouvoir. Le 30 Mars 97 à Strasbourg, lors de son discours de clôture du Congrès du Front National, il a encore enfoncé le clou en s'en prenant, entre autres, aux "rappeurs crasseux, aux intermittents du spectacle, et aux scientifiques bidon"...Voila qui avait au moins le mérite d'être clair... (Read more...)