GRIMO, Rag-Time
Catalog reference number: IPS 0303.
CD release date: March, 2003.
Digital released on Bandcamp on March 26, 2020.
The aim is not to play original "ragtime", this skipping music, from the end of XIX century, thas has been one of the roots for jazz, and inspiration for composers like Claude Debussy and Erik Satie. It's rather a matter of "ragging" the time and cutting it to pieces, as the word says so. The warm electronic sounds of the Moog use the "sample & hold" system, selecting random notes and automatically playing them on the keyboard. The Stratocater Fender guitar is improved by unusual pedals effects, such as the ring modulator, the Talk-Box or the Q-Tron. Added to fluffy and sweet sonorities from old waxes, these elements lead to explore surprising, absurd and adventurous musical universes. Disarticulated fox-trots, punky or hawaiian waltzes, covers from Led Zeppelin, John Fahey, W.A. Mozart, winks to Sun Ra, Jelly Roll Morton...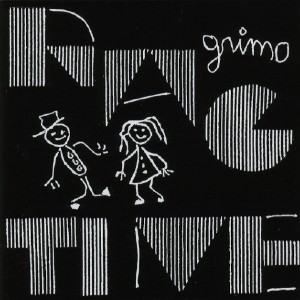 Getting away from Camizole and after several Video Adventures with different fellows, Dominique Grimaud is admittedly a loner, but this new disc shows that he still remains very populated within himself ! Indeed, he manipulates his pick-up to invent new playmates more noisy than the old waxes of the Grévin museum.
Like his compatriot from Chartres, the raw artiste Raymond Isidore, known as Picassiette, who spent his spare time decorating his hand-made house with mosaics created by pieces of crockery gleaned here and there, Grimo recycles those antiquated recordings from dance hop orchestras, argentinian tango... to make a rather syncopated interbreeding with his analogue synthesizer automaton and his odd way of playing the guitar.
The amazing arrangements, the proliferation of sounds that recall animal cries and sonorous gags, evoke the sound tracks of Tex Avery's cartoons created by Carl Stalling, or Spike Jones music hall shows. Last but not least, Grimo designed with application a magnificent black & white libretto which illustrate the sonorous universe of each track.
Hepcats into the ring ! Analogically anachronistic.
Dominique Grimaud Mandoline-banjo, Moog, Fender Stratocaster, Records, Spinet from the Vosges, Harmonica, Melodica, Bird call, Whistle…

Guests :
Tagubu rythm guitar (2), percussion (4), voice (13)
Anne / Anna voice (13)