Véronique Vilhet and Dominique Grimaud, Îles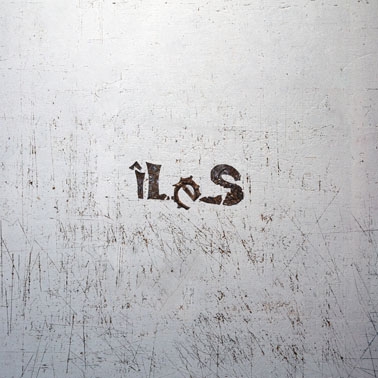 Catalog reference number: IPS1016.
Vinyl 12 inches, release date: October, 2016.
Véronique Vilhet and Dominique Grimaud are part, as indicated in the English Wire magazine, of the « veterans of French underground » who begun their musical activities in the counter-culture movement launched after May-68. Their adventures and misadventures drove them from the Festival of Avignon to Caracas, from Baalbek festival to the Music Building of New York, as well as in charts of the New Musical Express. Both of them followed the tracks of side roads of auto-production, even if they have also been considered by "official" labels in Chicago and Barclay in France. After four decades, they still go ahead; the duet now often plays outside the official channels, in self-directed places, squats and new-generation of record shops.
InPolySons already invited in the past Véronique Vilhet or Dominique Grimaud: first for Véronique with the re-issue of the songs of Johnny B Crotte, and second for Dominique with two solo and duet (with Pierre Bastien) albums (Rag-Time and Rag-Time vol 2).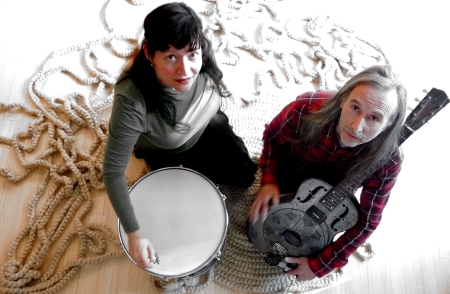 Their new album has for concept "Islands". In 2013, Denis Tagu gave them a present: Atlas of Remote Islands by Judith Schalansky (Penguin Books, 2010) translated in french (Arthaud, Flammarion 2010). Very keen of this topic, they proposed to use this book as a base for composing music and an album. As InPolySons found the idea pretty good, Véronique and Dominique selected within this atlas, as well as in folk and scientific books, different islands that all have specific histories, sometimes tragic, sometimes funny, and always unexpected. Recording was performed without synthesizers (except a Synthi AKS for simulation of wave sound). The drums and Fender Stratocaster guitars are the main used instruments, with the sake for open unusual chords, such as those by Nick Drake, Peter Finger or Michael Hedges. For some musical atmospheres, some additional instruments have been added: spinet, balafo, National steel guitar, alto and baryton saxophones, mouth harp… At the end, 12 pieces that correspond to 12 real or imaginary islands, with 12 outlines and fates turns by turns knocked-up, rusty, torn to shreds, disturbing, wild, uneven, pushed, tormented, comical, unusual, charming, colourful... a nice discovery.

Art work: Dominique Julien, Agnès Méreau et Dominique Grimaud.
Lay out: Julien Louvet
Mastering: Patrick Muller
Face A
1 - Rapa Iti 2:02


2 - Île Pingalap 1:28
3 - Tromelin 3:03
4 - L'île à Hélice 1:41
5 - Trindale 2:35
6 - Îles Juan Fernandez 2:17
7 - Rapa Nui 1:48
8 - Fangatoufa 2:17


9 - Sandy 2:46
Face B
1 - Île Aïeaïeaïe 2:27
2 - Île de l'Ascension 2:42
3 - L'île de la Solitude 13:26