Juicy Panic, Edelweiss Müller DVD-Maxi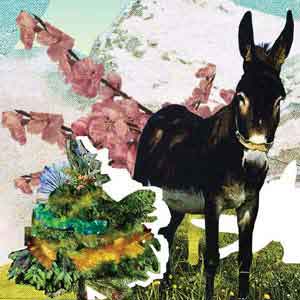 Catalog reference number: IPS D 06505.
DVD release date: 2005.
Video DVD to cheer up your telly, DVD-ROM to have fun on your MAC (Mac OS X 10) or your PC (windows XP/2000).

The DVD section contains several video clips that illustrate Juicy Panic's music in a rather Residents' way : unreleased tracks Edelweiss Müller, Comment s'appelle votre chien ?, Lonesome and Otarie tune (sung by Toshiaki Chiku from Les Pascals band) plus an alternate version of Triffle Triffle from their Otarie album. The DVD-ROM section presents funny computer animations and many interactive games to discover Juicy Panic's playful universe : a musical ride from Tokyo to Montana on a curious donkey, an interactive kitsch karaoke, odd interviews with Mami Chan and Norman Bambi, a japanese lesson, a real quizz, several unrelesed traks, hilarious photos and videos from Juicy Panic's discussions with donkeys ans cows.
Seriously playful !
DVD-ROM-VIDEO has been created by Christine Delaquaize, Pauline Thomas, Clément Dozier, Charly Meignan from Gobelins l'Ecole de l'image in Paris.
Edelweiss Müller has won the overall Top Talent Award and Cross Media Award and at the multimedia festival Europrix Top Talent TTA in Vienna en 2004 .
Juicy Panic is a cranky mixed duet based in Normandie (France) who mixes funnily electronics and cartoons nursery rhymes, doowop and breakcore.
Mami Chan (keyboards, voice ans whatever she grabs) & Norman Bambi (computer, voice, guitar, percussions).
Juicy Panic has released Otarie on InPolySons in 2003.

To complete Edelweiss Muller DVD-VIDEO-ROM, there's 3 flash cartoons for Juicy Panic's music available on Internet : Triffle Triffle by Bechamel and You drive me oh oh oh & Triffle Triffle / The Fruit Punch Image Song by Torisukoshiro.