Oedipus
Catalog reference number: IPS 0403.
CD release date: April, 2003.
Digital released on Bandcamp on May 5, 2020.
Far from the stroboscopic effervescence of the golden eigthies, the British Alig (alias John Pearce), former instigator of a funny pop music mixed növö-dub combo called Family Fodder, comes back as Johnny Kash with a new muse : the superb Norwegian singer Anne-Marte Rygh for a completly timeless recording, more stamped with mythological images than with Freudian theories.
Oedipus enrolls its silk carpet for us, which is tranformed into a flying carpet for a weightlnessness journey across an oriental garden. Real zen and almost ritual music, this self- spell ceremony manages to make a blank in our minds. This kind of shamanic trip hop has the mystery and wisdom of an antique oracle.
The percussions from North Africa and Persia meet the accordion and european folk music : polka, tango, fado, even country western music. Anne-Marthe / Alig duet's minimal trance starts from the inmost and connects to the world beat in order to rediscover the sensuousness and flightiness of the first loves.
Hypnotically out-of-complexes.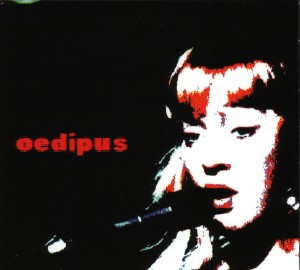 Oedipus has also contributed to the No More... No Mouroir compilation (IPS 1301).
Johnny Kash guitar, accordion, percussion, voice, piano Anne-Marte Rygh voice, texts

With
Ben Grubb acoustic guitar (Riddlespire, Morphic Resonance)
Russell Harris percussion (Morphic Resonance, World Music)
Jon Stercx percussion (Two Little Hours)